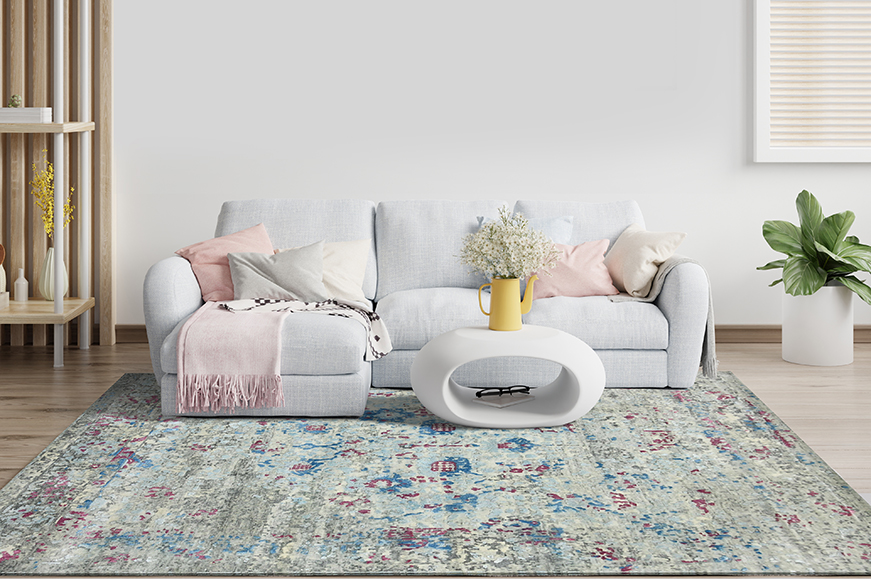 Your Home Needs These Trendy Rugs Collection For Interior Decor
Luxury doesn't have to be expensive, as shown by our hand-tufted rug selections. We have
the ideal rug to suit both color and design inspiration as well as financial limitations thanks to
a piece of different yarn systems. Since we are the manufacturer, each rug that is tufted
shows the same rigorous attention to detail and desire for excellence.

Tufted carpets typically cost less than their hand-knotted counterparts because they require
fewer artisans and less time to make each one. However, utilizing a tufting gun demands
considerable dexterity, an acute eye, and a dedication to using the same premium wool and
viscose that is included in our hand-knotted designs.

LEGACY COLLECTION
We offer an exquisite selection of gorgeous hand-tufted rugs in our Legacy Collection to give
your decor a true style impact and bring it back on-trend. This collection is created in India
and can readily garner curiosity because it incorporates both warm and cold colors. The
Legacy Collection contains an amazing quality that adds Class to any area of your home. It
is meticulously made with Blended New Zealand Wool & Art Silk (Viscose).

DAZZLE COLLECTION
The Dazzle collection, an inspired blend of urban colors and modern patterns will make a
bold statement in your home. This Area Rug Was Hand-Knotted In India Over Several
Months And Is Designed To Be A Work Of Art. It Features All-Natural New Zealand Wool
Woven Alongside Soft, Organic Silk.

HERITAGE COLLECTION
The heritage collection Is a lovely assortment of hand-loomed, Gabbeh-inspired designs in
earthy, neutral colors. Each rug is super plush and will ground any room in beauty and
design, and is made with pride in India of only the finest New Zealand wool and premium
viscose.

NATURALS COLLECTION
This naturals collection is a lovely mix of casual and classy and is expertly hand-woven in
India of durable jute and delicate cotton, making it an environmentally responsible addition to
your home. This lovely collection will adapt to any style of design in your home and survive
for years to come, whether at the beach or on the farm.

BUTWAL KAPA COLLECTION
The Butwal Kapa line collection is an instant classic thanks to its unrivaled elegance and
outstanding quality. It is made of 100% wool and will provide long-lasting comfort, beauty,
and use. Butwal Kapa's oriental theme provides the timeless elegance of the past to every
room in your home.

ARTISAN COLLECTION
The Artisan collection, handcrafted with care, mixes classic designs, timeless color stories,
and exquisite New Zealand wool to create a body of work that is genuinely greater than the
sum of its parts. Raw wool has a natural abrash appearance and is transformed into
magnificent accents that will enchant and embellish any space. Crafters of the Artisan
collection can achieve the expressive peaks of an artist with careful effort. Artisan presents
woven workmanship.

HOSPITALITY COLLECTION
This fantastic collection, brilliantly moved by exquisite hospitality patterns, attempts to depict
the stirring well-loved and basic but cozy modern styles. Hospitality will give your home or
office a personalized elegance. 100% wool is used to create this piece with pride in India.

EUPHORIA COLLECTION
Master Weavers Create Woven Masterpieces Fit For Grand Mansions And Estates All Over The
World. Each strand of New Zealand Wool and Red Blossom Chinese Silk flows with life and is
purposefully placed in this collection. Rich, delectable colors delight the senses and hand-
embossed silk exemplifies the Crystal Collection's radiant, sparkling nature. This collection
spares no detail, and connoisseurs see it as a shining example of the best floor coverings.
With hand-tufted rugs, our point of differentiation is more tactile than visible. Feel the
coziness and comfort of our hand-tufted carpets, and you'll understand right away why
designers who value color, design, and high-quality craftsmanship favor ours.