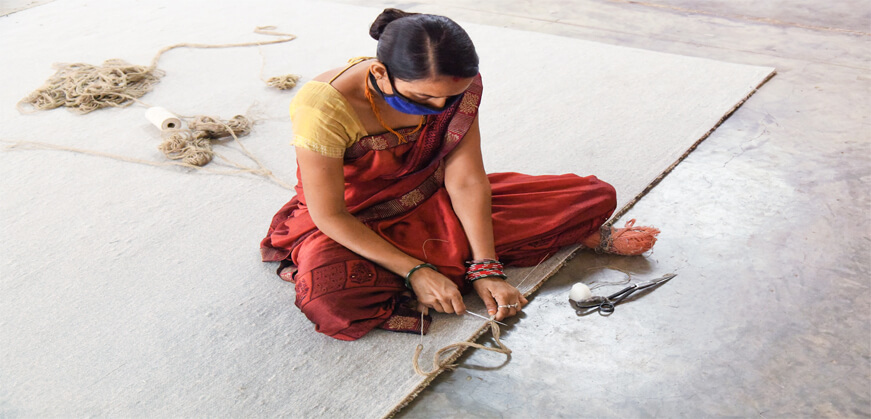 Why Hand Made rugs are better than Machine Made rugs?
Choosing a new area rug might be easy. Choosing an area rug that goes with your counterparts, wall colors, and the new couch you bought last month? Might be not that easy.
Day or night, one thing that can truly make your living space feel inviting and cozy is the perfect area rug. Adding a focal point to your space, it will heighten the design in a simple but effective way.
While purchasing a rug, the question that strikes is whether to choose a machine-made rug or a handmade rug? To answer this questions, Saraswatii Global, one of the leading rug brand will guide you to make the appropriate decision according to your needs.
Following are some of the key aspects to keep in mind while selecting the rug:
Durability
Durability is the key essence of a right area rug. Competing on the dimension of quality and durability, hand-made rugs take the lead as they lasts for generations to come. The hand- knotted rugs require immense efforts and time which make them unique, expensive and artistic. On the other side, machine-made rugs require less time and efforts, as well when compared to the durability, they doesn't last for a too long duration.
Exclusive & Unique
When every knot is weaved by hands of the artists and every thread tells a story of the maker, then it brings a sense of uniqueness in the rug. This personal touch makes the handmade rugs exclusive and one-of-a-kind. In machine-made rugs, there is creativity and complex designs, but still they lack the feeling of that unique pattern which cannot be copied again in any rug. The machine made rugs are available in mass quantity and the designs are also identical. So, if as a homeowner, you are looking for something that is as unique as you, then handmade rugs fulfill your demand.
Sustainability
When looking for a sustainable approach in making of an area rug, handmade rugs earn the label of being a sustainable product. In comparison, handmade rugs take more time to produce and also has less wastage of material when compared to machine made rugs. The handmade rugs are made with utmost commitment, dedication, and single-mindedness. At Saraswatii Global, there are several hand-made rugs which are made with natural dyes which justifies the sustainable approach of their business model.
After using handmade rugs for generations, they can also be naturally over dyed and give the rugs an antique and aesthetic appeal. Sustainability is the core of all the business functions of Saraswatii Global; the company not only provide livelihood to thousands of artisans but also help them to overcome the challenges they are facing in their lives due to living in the remote areas. With a grassroot network approach, the company allows the weavers to access materials to continue their work and earn livelihood.
Material
The material used for making a rug defines the quality and durability of that carpet. In handmade rugs, given to the time and efforts for the making of one handmade rug, only the finest quality of materials are to be used. To make these rugs, the wool is sourced from premium locations across the world to deliver the customers a valuable and fine quality rug. On the other hand, machine made rugs are usually made with nylon, polyester, and other synthetic materials which impacts their durability and quality. Therefore, the most suitable and premium choice for a rug is one which is handmade.
Selecting a rug is completely depends upon one's own choice, preference, budget, and need. There are both pros and cons associated with every product, so you can opt for any type of rug you want for your place whether a handmade one or a machine made.