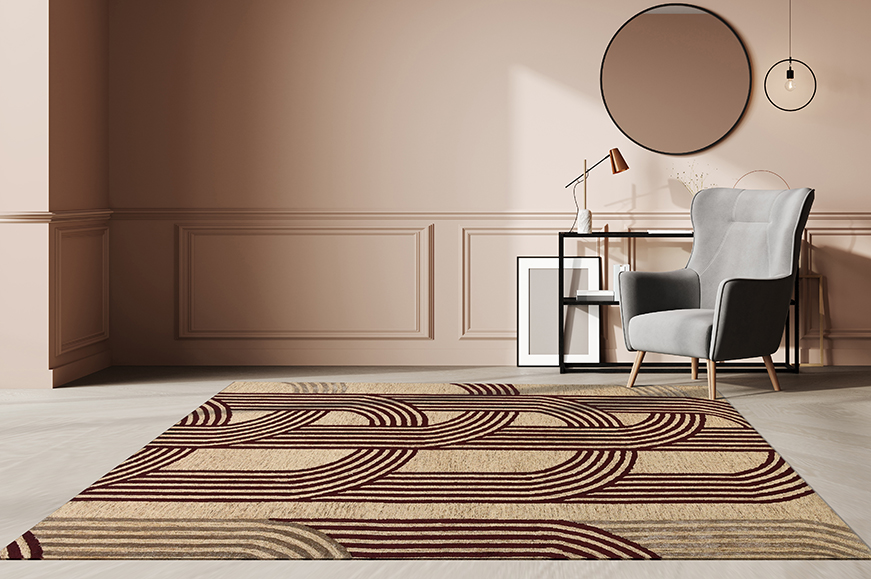 5 places In Your Home That Must Have A Rug
Nothing else gives your feet the warm warmth of a rug after a long day of walking in tight footwear. You feel as though you are walking on a soft base when you enter your home, which makes you exclaim with delight, "Home, sweet home!"

Now, it's crucial to put carpets in the right locations around the house to reduce extra maintenance and installation costs. The decision to install a carpet or rug is frequently highly disturbing because of the cost and, even after that, the amount of work required to keep them clean and well maintained. But given that you have a superior flooring option, this situation could become quite stress-free with the proper help.

The ideal locations for carpet or rug placement in a home include

1. In the Living Room

The living room is now a place where you may express your creativity with rugs and carpets. Materials that go well with your particular style can be chosen, and patterns can be blended. Any style of rug, from those made of natural fibers in lighter tones to those with stunning animal prints, can go well with the decor of your living room. They can be anything, depending on the surrounding furniture, decor, and wall colors, as well as how and what you want them to be. Depending on your budget, you have several possibilities. Choose wisely so the carpet is big enough if you want a wall-to-wall installation or small and stylish if you only want it to stay under the center table.

2. In the Bedroom

The space in the house where you want to relax is undoubtedly the bedroom. Unbelievably soothing is the feeling of a carpet at the foot of the bed or surrounding the bed. You would enjoy every morning if you felt soft under your feet on a chilly winter morning. A vibrantly printed rug would serve as the focal point of the space because it contrasts with the design of your bedroom. For a warm embrace after the fuss of the surrounding world, a friendly pastel-colored one would be better. Get smaller rugs for the kids' rooms.

3. In the Kitchen

A pricey carpet in the kitchen is not a cause for alarm. It's claimed that softer floors will increase your comfort. Specifically for kitchens, there are several different types of non-fiber-based rugs available. They have a soft feel, are cushioned, and seem like an even carpet. It provides your feet with the comfort they require to stand for extended periods. The care and cleaning of these rugs are straightforward. It's a great design decision to install a rectangle-shaped carpet in the kitchen, but you must have the patience to clean up any spills that could happen daily. The kitchen should also be spacious and have lots of sunlight for the carpet to stay dry.

4. In the Dining Area

Compared to the kitchen, this is a safer location for a carpet. There isn't much to worry about if you don't have any children or animals living in your home. A distinctive carpet might set you apart from a larger living or dining space. The dining room's pricey carpet has always demanded a showy gesture. Additionally, this delicate setup can protect you from the loudness associated with clatters and drags by very conveniently absorbing the sounds.

5. In the hallway and Under the Staircase

A heavy carpet placed only at the bottom of the stairs is a great idea, designers say, even though carpeting the entire staircase may sound a little too flashy and excessive to you. For your kids, who enjoy rushing up and down stairs, this would serve as a brake. In the otherwise accessory-free zone, a lovely rug is a perfect piece to draw attention to. In addition to serving as additional décor for a lengthy connected hallway, a carpet placed beneath the stairs can also do so. This does two things: it provides security and is a valuable addition to give your house a premium appearance. Here are a few tips on how to use your rugs efficiently in any space, no matter where they are in the house.