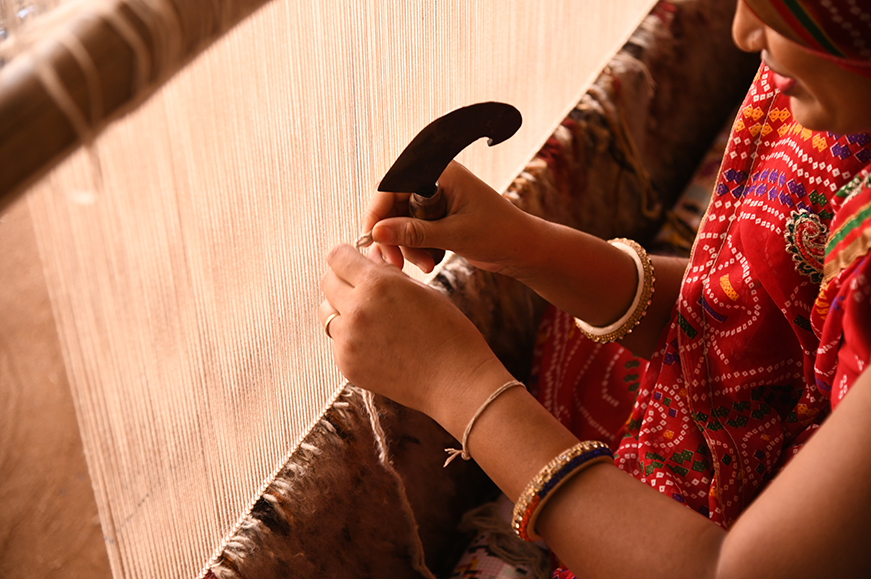 How a Durable Hand-Knotted Rug Made - Know the Processes
An old method of rug weaving is the hand-knotted technique. The style of this rug-weaving method is distinctive. A hand-knotted rug is constructed from natural materials like cotton and pure silk. The Rug making process requires a lot of time to complete. Area rugs manufactured by hand-knotting differ from handmade carpets in their construction methods.
Interpreting The Cartoon
Once the design has been chosen and the sketch is finished, cotton is spun and a loom is set up. This arrangement enables the weaver to hand-knot a new rug here on the loom's frame. On the loom, vertical warp columns of thread are stretched. Cotton warps typically provide the perfect texture for a smooth, straight rug. The horizontal rows of wefts, which are arranged by the weaver, secure the warps (ordinarily made of cotton, wool, or silk).
Loom Hand Knotting
Hand-knotted rugs are difficult to weave and can take a long time to complete. The number of knots per square inch affects both the quality and frequently the price of a hand-knotted rug. In this instance, greater density equates to higher quality. It can take a very long time to create a complex pattern because it may require very dense knotting. A weaver can typically tie 10,000 knots each day.
The weaver knots either a continuous strand or themselves for hard knotting rugs. The weaver is prepared to begin the majority of the work after producing about ten wefts. He or she picks one or two wraps within the same row and creates a knot over them using a piece of silk or wool.
Clipping And Cutting
Each knot's ends are roughly chopped with a knife as the rug is being woven, just before the knot is inserted into the foundation. When every row of knots is finished or after many rows have been worked, further trimming may be done. Once the entire rug is complete, it is again meticulously sheared to provide it with a consistent thickness.
However, impressed carpets typically have straightforward patterns; these rugs would appear flat if they had these differences in pile depth.
Last Washing
After being trimmed, the rug is washed to remove any detergent, dirt, or yarn fragments that may have accumulated during the weave and to give the rug its final sheen. Fresh water is then poured over the rug once it has been set flat on the ground. The water is then forced through the rug pile by the rug washers using a wood board with a sharpened edge. By doing this, contaminants gathered during the creation process are removed. When cleaning rugs, specific chemicals are frequently added to the water.
The rug is let to dry entirely in the sun when washing is finished. The rug is placed outside to dry on fresh river rocks in one of two huge courtyards. When they are completely dry, the preparation for sale starts.
Finishing
The finishing procedure has been completed following the last washing step. These steps in the production of hand-knotted carpets are broken down into a wide variety of various tasks.
Shaving and leveling
Fringing
Binding
Inspection
Following this procedure, the rug is now prepared for sale. At various stages of the procedure, it is repeatedly inspected. Small mistakes in the pattern are discovered as a result, and a designated team fixes them. To ensure that each rug is perfectly straight and faithful to its measurements, it is stretched. Rows are examined to ensure that everything aligns as it should. After each procedure, it is cleansed.
Packing
Once the finished hand-knotted rug has been examined. It starts to be prepared for packing and shipping to buyers. It is significant to remember that packaging varies from provider to supplier and is not always uniform.
These are the best and extra-careful methods for making hand-knotted carpets. Hand-knotted carpets are long-lasting and perfect for decorating your home's interior.