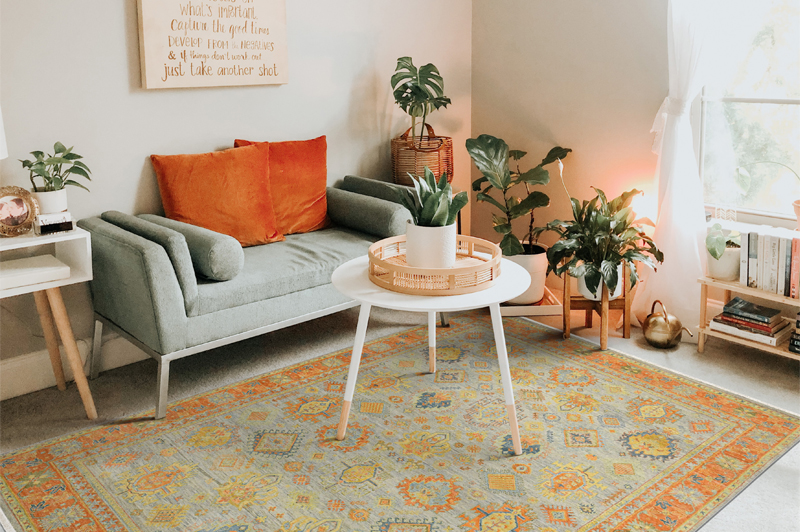 How to Minimize Fall Risk for Children and Seniors When Decorating With Rugs?
Area Rugs can be a simple and effective way to add style and feel to your home, and they can really enhance the décor of a room. But if you have children or seniors at your home, rugs can be a safety challenge.
You have chosen the perfect Rug. Now it's time to pay attention to the ways to make Rugs safer for them.
Factors To be taken into consideration:
Invest in a Rug Pad
Investing in non-slip Rug pads is the best way to avert the chances of sliding around on a tiled floor when you step on Rugs, that is not holding on to the floor properly. If you have boisterous children running all around the house or elderly family members who are afraid of falling and injuring themselves, make sure that your rugs are safe to lean on.
Opt for a Larger Rug
While walking on the floor, especially elders, from hard surfaces onto a small throw rug, or multiple throw rugs, this frequent change in the level of plain surface can be dangerous. The small change in the level of plain surface created by the edges of the rugs might be a fall hazard for them. It isn't possible to check the edge of every Rug. Instead, minimize fall risk by opting for a single larger area rug that can serve an even surface, also there will be fewer edges to navigate.
Repair the Damage to The Rug
If your Rug has any tears, holes, damages, or worn spots, it's time to repair or replace it. Just like the edges of a rug can be hazardous because they create an uneven surface, wear and tear or holes all over the rug could also be a fall hazard for elders. Holes or tears could also create a problem for toddlers as well who just learned to walk.
Leave clear Traffic Areas
Try positioning your rugs within the room and leave some area to walk on the floor. You can avoid putting rug edges in the wrong direction of people walking through your home so that children and elders have an option to not step on them at all, which can help them escape from slipping or falling.
Before planning to buy a Rug to decorate the space or thought of adjusting the rugs that you already have at home, keep these tips in mind, this can make your home a safer place for the people around. By putting a bit of extra time and effort into planning the selection, placement, accessories, and maintenance of the rugs in your home, you can avert the chance of falling and help to make your friends and family members feel safer and more comfortable in your home.