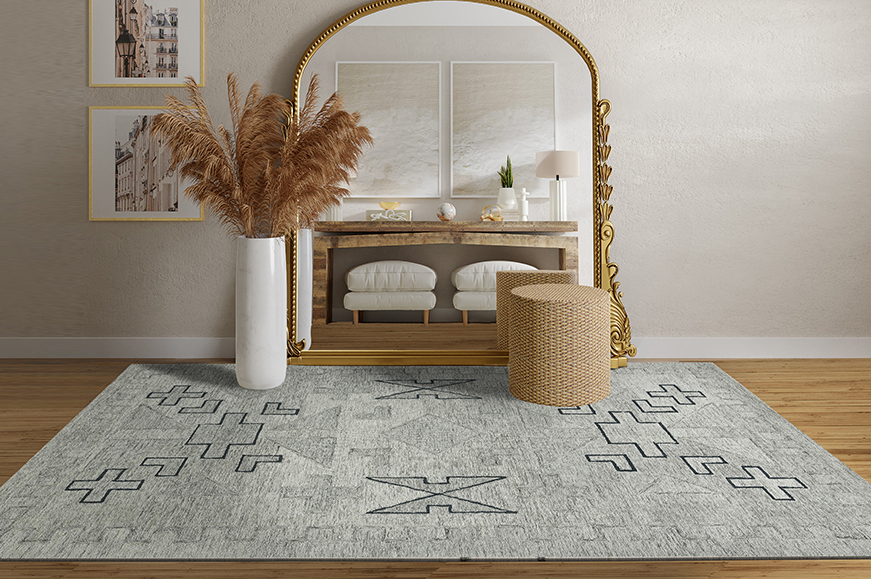 Make your interior amazing with Our designer carpets
Make your interior amazing with Our designer carpets
If you're looking for a way to spruce up your room's interior, then buying our rug is the perfect solution. But it's important to remember that not all rugs are created equal, and you'll want to make sure you choose one that fits with your home's overall aesthetic. So If your interior is modern, then opting for our modern designer carpet is the best way to go. Contemporary rugs always give off a modern vibe, so if that's the look you're going for, make sure to choose one with our contemporary design. Still, trying to figure out what makes a rug designer? Here are some design patterns to look out for:
- Geometric shapes
- Bold colors
- Simple patterns
Some of our Modern designer rugs are given below:

Animal prints are the rage of every season and find their way even in home furnishing textiles. If one goes back to history, kings and higher-class people have used rugs made from animal skin which is a symbol of royalty and high status. From the classic, spotted leopard print and sleek tiger stripes to the monochromatic zebra patterns are popular patterns used in home decor fabrics. However, leopard print rules the current fashion and rug industry and home furnishing. Most importantly, people love animal prints which is gratifying to the eyes and bring out the wild side of human nature.
Landscape gardener Seyemon Kusumoto wrote that Japanese Gardens generate the best of nature's handiwork in a limited space.? Such is the belief for our Kinara collection. Challenged with a limited surface area for each design, our vision for this elegant contemporary collection
Victoria is a modern collection of designs that accentuates your unique style and panache. Made of the finest premium wool Victoria is hand-tufted in India by Saraswatii's wonderfully creative artisans.
Material of Our Designer Rug:
Our modern category includes designer rugs like Canyan, Kinara, Victoria, and many more, which are made of the highest quality wool and occasionally cotton. Wool makes up the weft and the warp, which is made of both cotton and pure wool. Because it is less expensive than silk and has some characteristics that can conceal stains and hair, wool is the best material for our handcrafted carpets. For people who have both children and pets, this rug is ideal.
Choose Simple to look, Designer:
The less design pattern is a popular choice for many modern homeowners because it is easier to match with any type of furniture. Our designer carpet usually has a limited color palette and a simple design pattern.
Our Welcoming Touch:
Our designer area rugs are produced using pure New Zealand wool for a soft and cozy touch that you'll love walking, sitting, or resting on. They also give your room a warm, rich appearance that ups the ante on luxury. You can also find contemporary rugs in our shop section that are hand-tufted with backing support for extra thickness and coziness.
Strong Durability of Our Rug:
Our Designer rugs are sometimes hand-knotted and some of them hand-tufted, and because of this, they are highly durable - usually lasting anywhere from 30 to 70 years without any manufacturing complaints.
Choose the design and color combination that you love:
When you are shopping for a new designer rug, make sure to pick a color and design that adore your home. You can go for light colors like cream, ivory, white, light pink, etc. with dark-colored furniture. Or, if you have plain-colored furniture, you can choose our stripe design, Ikat, or contemporary design for a more designer look.
Use our ideas to make the ideal designer home decoration:
First, buy a beautiful modern rug. Second, rearrange your furniture and place the rug on the floor. Third, add modern paintings to your walls. When selecting curtains or other decorative accessories, opt for colors that complement the carpet and furniture. Canyan is our modern rug with great color for a designer look. Lastly, take our simple Canyan instead of a traditional one - it's more affordable and designer-looking.
If you're looking for designer rugs to add to your décor, Saraswati Global is a great place to start your search. We have a wide selection of designer rugs available online, so you're sure to find something that fits your style.