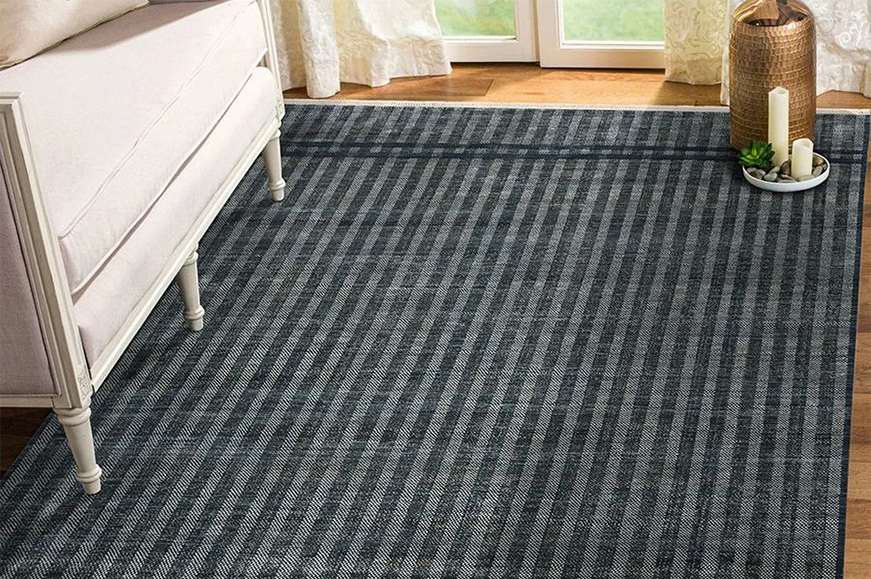 Select the Ideal Rug Size for Your Home
It can be challenging to figure out how big of a rug to buy for your house. Selecting the right size is just as crucial as choosing the ideal rug material, color, and design for your space.
Because picking the proper size rug for your living room can be challenging, that's why we wanted to provide this advice and address the following often-asked questions from our interior design:
How large should my area rug be?
How big should the rug be underneath my sectional?
What size rug would be best in my living room?
Should the furniture be centered beneath my rug?
What kind of space should exist around a rug's edges?
So here is how you can choose the ideal rug size for your interior.

Identify the room's size
This is often as easy to do as measuring the four walls of the space. It seems to reason that larger rooms will typically have larger rugs. Long rooms will also require rugs that are oriented the same way. Basically, choosing the proper rug size requires an awareness of proportions.
Pick the Proper Rug Size
Make sure you leave at least 18 inches around the frame when measuring the space. This is done to build passageways. If the space is less, 8" ought to work. You should also allow yourself a 2" error margin. Make careful to take into account the borders of an outdoor rug when calculating its space.
Rugs in living rooms often measure 8' by 10' and 9' x 12'. Make sure your rug is at least 6 inches (ideally 8 inches) wider on each side than your sofa.
Usually, the rug is placed along the entire sofa length. If your living room allows it, leave 30 to 36 inches between large furniture pieces; if not, leave at least 18 to 24 inches.
Select the Ideal Layout
We need to test the area rug to make sure it fits the room and your furniture appropriately now that you have a size in mind. There are a few guidelines or suggestions you can go by when positioning furniture on an area rug to achieve the finest aesthetic results:
Option 1: Everything is on a rug
A stylish technique to define the space in bigger rooms that may accommodate a huge area rug is to arrange all of the furniture on the rug.
Option 2: Furniture's front legs resting on the rug
If you were able to eliminate the possibility that any of the pieces wouldn't fit completely on the rug, a hybrid strategy would be suitable for your house. Consider choosing a rug that is just a little bit smaller so that some or all of the pieces can rest their front legs on it.
Option 3: The rug is free of all furniture
If the first two options weren't successful in your home, consider choosing a smaller rug and moving all of the furniture off of it.
Additional Advice

Now that you've determined the ideal rug size and marked it on your floor plan, here are some further suggestions:
Mark the Space with Masking Tape: It's time to tape off the area. To get a sense of how the new rug would scale inside the room, it is ideal to tape the entire rug.
Try it out - Use the taped-off area in your daily life for a few days to see how you feel about it.
Vacuuming - Verify that you can easily vacuum all of the rug's edges. Given that I have a dog who sheds continuously, 365 days a year.