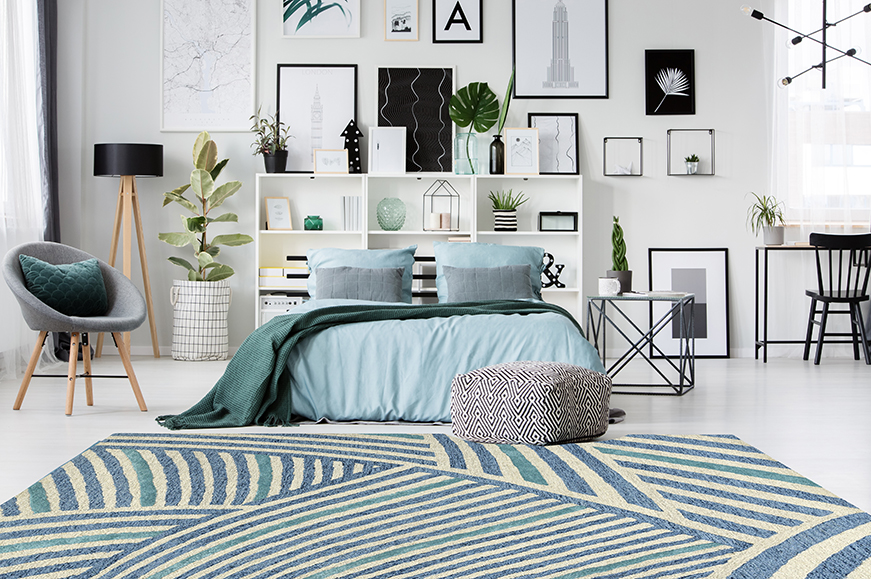 The Ultimate Guide to Freshening Up Your Home Decor for the New Year With Carpet
As we enter the new year, why not give your home a makeover? Give a fresh new look by adding a couple of special pieces here and there. After all, it's the perfect time of the year to make resolutions, and one of them could be to spruce up your home. Let's start 2021 with an upbeat state of mind and a fresh start!

Here are a few quick, enjoyable, and low-effort methods to revitalize your house for the new year.

1. Use a variety of rug patterns to establish a timeless contrast:

A wonderful method to make a color scheme stand out is to use contrast. To really make the colors stand out, place stunning pale yellow and other pastel-colored rugs beneath a dark wooden dining table. Rug designs in vivid hues go well with light-colored living room furnishings. You'll create a room with more energy using this easy decorating technique, which you and your visitors will adore.
2. Rugs should match the backsplash:

If your home has wall paneling, coordinating the rug's design with the wall paneling is a fantastic way to tie the space together. Brown rugs go well with wooden wall paneling that has an older look. Match the rug's pattern to contemporary paneling. This fosters harmony in your house, which promotes a sense of serenity and relaxation.
3. Add Personality to Your Decor with Eye-Catching Designs:

Using rugs in strong color combinations is a terrific way to make your home's focal point stand out! Underneath little pieces of accent furniture or floor lamps, place small Persian carpets. To provide a lovely focal point, place a huge, intricate rug in the middle of the floor with geometric designs in brighter colors. Any rug with vivid colors and patterns is a terrific choice to help you give your space more personality, especially patterns that feature people and/or animals.
4. Bring Some Greenery Inside:
Did you know there are Facebook groups specifically for those who enjoy indoor gardening? This is due to the fact that it is among the best decorating advice available and seldom ever fails. If the exterior of your home seems drab and uninteresting, it's extremely possible that some additional vegetation is needed. Bring some adorable small succulents, magnificent cacti for the tables, creepers to adorn your foyer and balcony, and other home design accents for the new year. It does wonders in assisting you in adjusting to the gloom and drabness of winter.


5. Rearrange your current decor:

Rearranging and moving the items you currently have at home might sometimes suffice as some design or home organization advice. What if you moved the bed closer to the window and the almirah closer to the other wall? Maybe you should rearrange the furniture and move the coffee table? By merely shifting the placement of some design items to achieve proportional balance, you may completely revamp your home for the new year.

6. Use flat weave rugs to cover furniture:

Use flatweave carpets to create a fresh look rather than buying new furniture! Cover your furniture with sizable flatweaves rugs with exquisite designs. Make sure the rug's color blends in with the fabric of your furniture. Use bold, dramatic colors to add more excitement and contrast to your living space or choose comparable hues to create a cohesive aesthetic.


7. Display lovely rugs on the wall:

It's a terrific idea to hang decorative carpets with gorgeous color trends on your walls! Create a focal point in your living area using this concept. Dark-colored, lovely old rugs can also be put on walls as discussion pieces! Simply hang them where you would typically display paintings on the walls.
Decorating for the new year is a really exciting activity for people who love décor and everything that improves the look and feel of their home. If your family and friends join you, you might decide to create a day (or perhaps a week) out of it. When trying to totally renovate the house, it's important to understand your feelings of overwhelm. Connecting everything to your existing way of thinking and establishing the right intention are the main objectives.