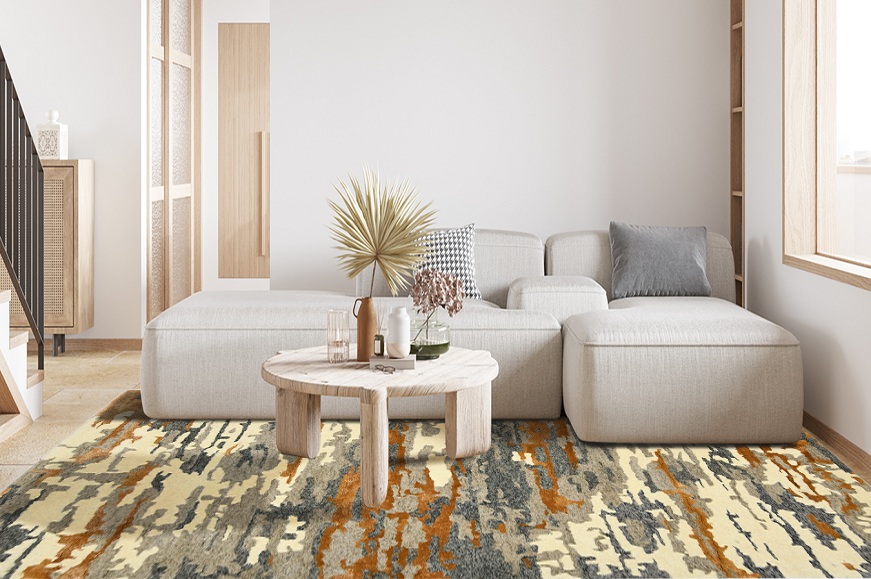 Tips To Make Sure Your Hand Tufted Rug Looks Brand New
There is no denying the fact that rugs, whether they are hand-tufted or hand-knotted, are expensive. And because they are expensive, no one wants to replace them too frequently. However, caring for them is not everyone's cup of tea, which is why we have compiled special advice to help you maintain the appearance of your hand-tufted rug.
But first, let's take a closer look at what a hand-tufted rug is before we move on to the specially curated advice.

Hand Tufted Rug

A hand-tufted rug is created using a combination of manual labor and machine tools. Wool is used to making this kind of rug. A hand-tufted rug is made very differently from a hand-knotted rug. With the aid of a hand-operated tool, wool strands are punched into a canvas that is stretched on a frame to create a hand-tufted rug. This procedure doesn't take as much time and doesn't require as much skill as hand-knotting.
The rug is taken off the frame and piled with wool. A backing of some kind will be present in a hand-tufted rug to keep the tufts in place. A scrim fabric is frequently glued to the back. A fringe is added to the rugby either sewing or gluing it on.

Tips to Keep the Rug Brand New
Go for a Professional Cleaning Service
Going to a professional cleaning service is the best choice because, as was already mentioned, cleaning a rug is not everyone's cup of tea. You can trust them without any worries because they have specialized equipment and years of experience cleaning rugs. All of your stains would be easily removed, and the rug would be restored to new condition.
To keep your rug new, vacuuming is essential, but using it too frequently can harm it. You should vacuum it twice a month because it affects the quality of the rug. Additionally, dusting it frequently, as well as moving the rug's placement well, can help keep the rug looking newer longer than routine vacuuming.
Don't let Untreated Spill for long on the Rug
Untreated spills can significantly lower a rug's quality, so getting rid of them should be your top priority. So here are some steps you can take to prevent the spill from destroying your rug: To prevent the stain from soaking too deeply into the carpet, first wipe the mark with a soft cloth. Any effort to halt the spill will be ineffective. Try to remove any solid debris, like food or dust, as soon as you can to stop them from deeply penetrating the rug.

Following these tips can surely help you keep the rug brand new all the time, that's why keep them in your mind. So here is the recap of all points we mentioned in the blog, go for a professional cleaning service in case you feel the situation has gone out of hand, the next thing to keep in mind you should not vacuum it regularly, and last but not the least don't forget to let the untreated spill for long