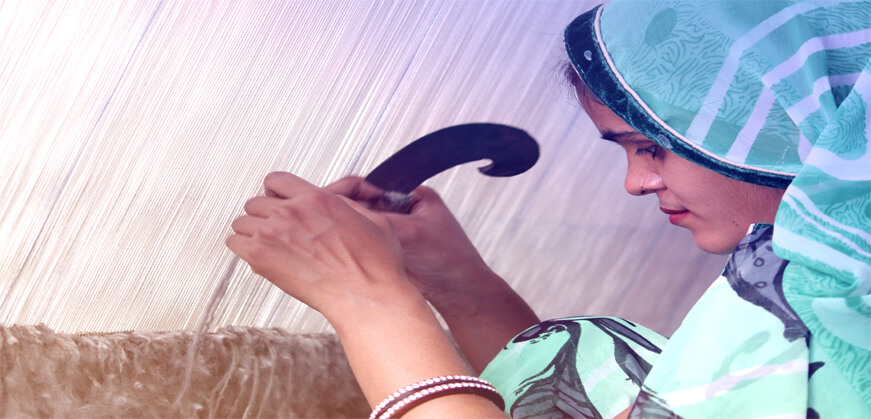 How do area rugs help to keep your home warm in winter?
People usually buy rugs as a design element to enhance the overall look of their living spaces. The rugs not only add style and color but during the cold-breezy days, they serve another important function i.e. to keep your house warm. The rugs add a layer of warmth and insulation so that the cool air can be trapped underneath and keep the environment cozy.
In winters, cold floors are one of the reason for heat loss if they are not insulated and the carpets and rugs work well in the place of that missing insulation. Wooden floors are in trend and gives your place a contemporary and modern touch but when it comes to warming up your home, they are ineffectual. On cold and breezy days, maximum heat is lost due to tipping on cold wooden floor.
If you are living at a place where temperature is quite low, it is recommended to purchase a fluffy rug made of wool. No doubt you will get mesmerized, when you snuggle your frozen toes into the soft and comfortable fabric on a chilly night.
The plush and soft shag rugs help to keep the place cozy as well as look even more welcoming. These rugs come in various patterns and styles to become the perfect rug for a living room, bedroom, or any space you prefer to place it. The shag rugs have luxurious thick piles which makes them extremely durable and also give a soft underfoot feel. The rugs that have thick piles can easily trap heat and keep the place warm in winters and act as the insulation on top of the floor.
While purchasing an area rug keep your focus on its thickness, size, and material. All these aspects are the key factors in influencing the temperature of the room or your feet when you walk around. The larger and thicker the rug is, the better the insulation would be.
If in case you already have a rug but it is not made of wool or it's too thin for insulating purpose, then it is not essential to buy a new rug, you can go for an insulated rug pad for better cushioning and warmth. Always remember, the size of the rug pad should be smaller than the size of the carpet so that it stays out of sight. And to make the area rug and the pad stay firm, you can also place a non-skid backing to ensure that there are no chances of buckling, wrinkling, and sliding.
Thermal rug mat is another way to keep your home warm as these mats work like a heating pad. You can lay them flat in-between the rug and the pad and then can plug into the wall.
Lastly, while finding the perfect rug for winters, double-check the material, density, and size of the carpet. By adding a rug to your floor, you will surely notice a great difference in cosiness during the frosty and chilly winter days.
The protection your floor needs, softness for your feet
Available in a variety of sizes for all your needs
Finely designed patterns that go with every indoor
Keep heat in your home, add some layers to your floor